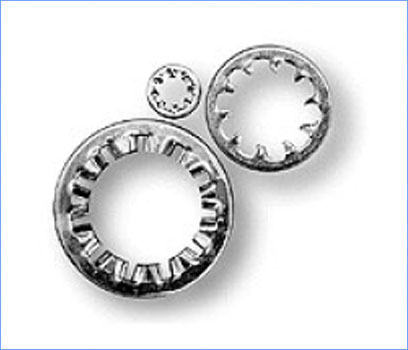 Introduction
IS - 5371 - 1982
An internal star washer is a type of washer that is designed to be used on the inside of a component or assembly. It has a series of teeth or notches along the inner edge that help to grip and hold onto the surface of the fastener and the material being fastened, helping to prevent loosening due to vibration or torque. Internal star washers are often used in applications where there is limited space or access to the outside of the component, or where a low profile is desired. They can be used with a variety of fastener types and sizes and are available in a variety of materials, including steel, stainless steel, brass, and plastic.
Internal Star Lock Washers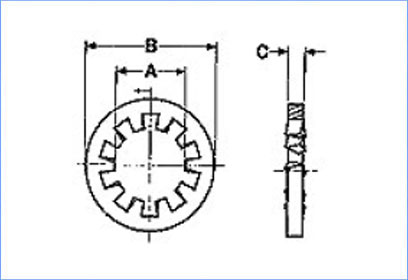 Available In Stainless Steel, Plain Or Zinc Plated Finishes. Stocked In Sizes From #2 To 1 1/4.
Nominal Washer Size
A
B
C
Inside Diameter
Outside Diameter
thickness
MAX
MIN
MAX
MIN
MAX
MIN
2
0.086
0.092
0.089
0.200
0.175
0.015
0.010
4
0.112
0.123
0.115
0.270
0.245
0.019
0.015
6
0.138
0.150
0.141
0.295
0.275
0.021
0.017
8
0.164
0.176
0.168
0.340
0.325
0.023
0.018
10
0.190
0.204
0.195
0.381
0.365
0.025
0.020
12
0.216
0.231
0.221
0.410
0.394
0.025
0.020
1/4
0.250
0.267
0.256
0.478
0.460
0.028
0.023
5/16
0.312
0.332
0.320
0.610
0.594
0.034
0.028
3/8
0.375
0.398
0.384
0.692
0.670
0.040
0.032
7/16
0.438
0.464
0.448
0.789
0.741
0.040
0.032
1/2
0.500
0.530
0.512
0.900
0.867
0.045
0.037
5/8
0.625
0.663
0.640
1.071
1.045
0.050
0.042
1/8
PIPE
0.425
0.410
0.615
0.595
0.022
0.017
Request Quote