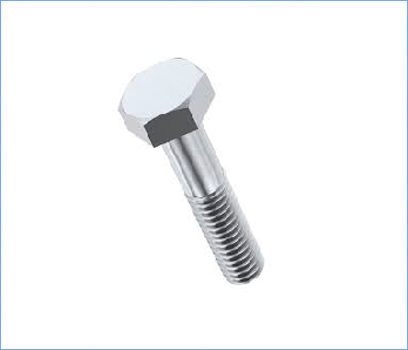 Introduction
A hex bolt, also known as a hexagonal head bolt, is a type of fastener with a hexagonal-shaped head and a threaded shaft. It is designed to be tightened or loosened using a hexagonal wrench or socket. Hex bolts are commonly used in construction, automotive, and machinery applications. They are available in a variety of materials, including steel, stainless steel, and brass, and in a range of sizes and grades to meet different strength and corrosion resistance requirements. Hex bolts can be used in conjunction with a variety of other fasteners, such as nuts, washers, and lock washers, to secure joints and prevent them from coming loose.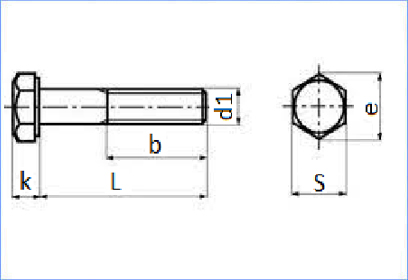 Hex bolts (six sided heads) are the industry standard for fasteners with forged heads.
Steel Grades: 4.6, 8.8, 10.9, 12.9
Finish: Self, Black, Bright Zinc, Hot Dip Galvanized (ROHS)
Also Available in Din - 937, Din - 6914, ISO - 1364, ISO - 4014.
Dimensions
Half Thread Hex Bolt As per ISO 4014
DIAMETER (d)
3 x 0.50 P
4 x 0.70 P
5 x 0.80 P
6 x 1.00 P
8 x 1.25 P
10 x 1.50 P
12 x 1.75 P
b
BELOW 125
APPROX
12.00
14.00
16.00
18.00
22.00
26.00
30.00
125 - 200
18.00
20.00
22.00
24.00
28.00
32.00
36.00
ABOVE 200
31.00
33.00
35.00
37.00
41.00
45.00
49.00
ACROSS FLAT (s)
Min
5.32
6.78
7.78
9.78
12.73
15.73
17.73
Max
5.50
7.00
8.00
10.00
13.00
16.00
18.00
ACROSS CORNER (e)
Min
6.01
7.66
8.79
11.05
14.38
17.77
20.03
HEAD THICKNESS (k)
Nom
2.00
2.80
3.50
4.00
5.30
6.40
7.50
Min
1.88
2.68
3.35
3.85
5.15
6.22
7.32
Max
2.12
2.92
3.65
4.15
5.45
6.58
7.68
Length
Min
Max
30
29.58
30.42
HHTB03030
HHTB04030
HHTB05030
-
-
-
-
35
34.50
35.50
HHTB03035
HHTB04035
HHTB05035
HHTB06035
-
-
-
40
39.50
40.50
HHTB03040
HHTB04040
HHTB05040
HHTB06040
HHTB08040
-
-
45
44.50
45.50
HHTB03045
HHTB04045
HHTB05045
HHTB06045
HHTB08045
HHTB10045
-
50
49.50
50.50
HHTB03050
HHTB04050
HHTB05050
HHTB06050
HHTB08050
HHTB10050
-
55
54.40
55.60
HHTB03055
HHTB04055
HHTB05055
HHTB06055
HHTB08055
HHTB10055
-
60
59.40
60.60
HHTB03060
HHTB04060
HHTB05060
HHTB06060
HHTB08060
HHTB10060
-
65
64.40
65.60
HHTB03065
HHTB04065
HHTB05065
HHTB06065
HHTB08065
HHTB10065
HHTB12065
70
69.40
70.60
HHTB03070
HHTB04070
HHTB05070
HHTB06070
HHTB08070
HHTB10070
HHTB12070
80
79.40
80.60
HHTB03080
HHTB04080
HHTB05080
HHTB06080
HHTB08080
HHTB10080
HHTB12080
90
89.30
90.70
HHTB03090
HHTB04090
HHTB05090
HHTB06090
HHTB08090
HHTB10090
HHTB12090
100
99.30
100.70
HHTB03100
HHTB04100
HHTB05100
HHTB06100
HHTB08100
HHTB10100
HHTB12100
110
109.30
110.70
HHTB03110
HHTB04110
HHTB05110
HHTB06110
HHTB08110
HHTB10110
HHTB12110
120
119.30
120.70
HHTB03120
HHTB04120
HHTB05120
HHTB06120
HHTB08120
HHTB10120
HHTB12120
130
129.20
130.80
HHTB03130
HHTB04130
HHTB05130
HHTB06130
HHTB08130
HHTB10130
HHTB12130
140
139.20
140.80
HHTB03140
HHTB04140
HHTB05140
HHTB06140
HHTB08140
HHTB10140
HHTB12140
150
149.20
150.80
HHTB03150
HHTB04150
HHTB05150
HHTB06150
HHTB08150
HHTB10150
HHTB12150
160
159.20
160.80
HHTB03160
HHTB04160
HHTB05160
HHTB06160
HHTB08160
HHTB10160
HHTB12160
180
179.20
180.80
HHTB03180
HHTB04180
HHTB05180
HHTB06180
HHTB08180
HHTB10180
HHTB12180
200
199.00
201.00
HHTB03200
HHTB04200
HHTB05200
HHTB06200
HHTB08200
HHTB10200
HHTB12200
Half Thread Hex Bolt As per ISO 4014
DIAMETER (d)
14 x 2.00 P
16 x 2.00 P
18 x 2.50 P
20 x 2.50 P
24 x 3.00 P
30 x 3.50 P
b
BELOW 125
APPROX
34.00
38.00
42.00
46.00
54.00
66.00
125 - 200
40.00
44.00
48.00
52.00
60.00
72.00
ABOVE 200
53.00
57.00
61.00
56.00
73.00
85.00
ACROSS FLAT (s)
Min
20.67
23.67
26.67
29.67
35.38
45.00
Max
21.00
24.00
24.00
30.00
36.00
46.00
ACROSS CORNER (e)
Min
23.35
26.75
30.14
33.53
39.98
50.85
HEAD THICKNESS (k)
Nom
8.80
10.00
11.50
12.50
15.00
18.70
Min
8.62
9.82
11.28
12.28
14.78
18.28
Max
8.98
10.18
11.72
12.72
15.22
19.12
Length
Min
Max
30
29.58
30.42
-
-
-
-
-
-
35
34.50
35.50
-
-
-
-
-
-
40
39.50
40.50
-
-
-
-
-
-
45
44.50
45.50
-
-
-
-
-
-
50
49.50
50.50
-
-
-
-
-
-
55
54.40
55.60
-
-
-
-
-
-
60
59.40
60.60
-
-
-
-
-
-
65
64.40
65.60
HHTB14065
HHTB16065
-
-
-
-
70
69.40
70.60
HHTB14070
HHTB16070
HHTB18070
-
-
-
80
79.40
80.60
HHTB14080
HHTB16080
HHTB18080
HHTB20080
HHTB24080
HHTB30080
90
89.40
90.70
HHTB14090
HHTB16090
HHTB18090
HHTB20090
HHTB24090
HHTB30090
100
99.30
100.70
HHTB14100
HHTB16100
HHTB18100
HHTB20100
HHTB24100
HHTB30100
110
109.30
110.70
HHTB14110
HHTB16110
HHTB18110
HHTB20110
HHTB24110
HHTB30110
120
119.30
120.70
HHTB14120
HHTB16120
HHTB18120
HHTB20120
HHTB24120
HHTB30120
130
129.20
130.80
HHTB14130
HHTB16130
HHTB18130
HHTB20130
HHTB24130
HHTB30130
140
139.20
140.80
HHTB14140
HHTB16140
HHTB18140
HHTB20140
HHTB24140
HHTB30140
150
149.20
150.80
HHTB14150
HHTB16150
HHTB18150
HHTB20150
HHTB24150
HHTB30150
160
159.20
160.80
HHTB14160
HHTB16160
HHTB18160
HHTB20160
HHTB24160
HHTB30160
180
179.20
180.80
HHTB14180
HHTB16180
HHTB18180
HHTB20180
HHTB24180
HHTB30180
200
199.00
201.00
HHTB14200
HHTB16200
HHTB18200
HHTB20200
HHTB24200
HHTB30200
Request Quote