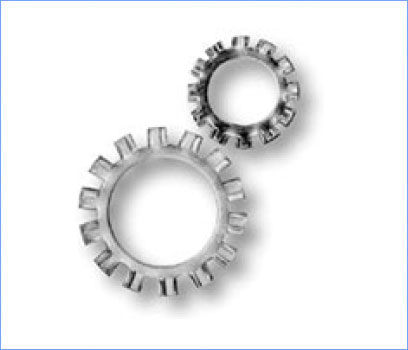 Introduction
DIN- 6798
An internal external star washer is a type of washer that has teeth or notches along both the inner and outer edges. It can be used on either the inside or outside of a component or assembly, depending on the specific application. This type of washer is designed to help prevent loosening due to vibration or torque by providing a secure grip on the fastener and the material being fastened. Internal external star washers are available in a variety of materials, including steel, stainless steel, brass, and plastic, and can be used with a variety of fastener types and sizes. They are often used in applications where a secure hold is necessary and space is limited.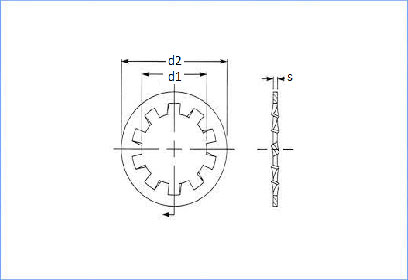 External Star Lock Washers
The advantages of Serrated Safety Washers are :
Used for high vibration resistance due to positive rib contact.
Excellent Pretensioning.
Through proper radius selection, no splitting/cracking occurs during tightening.
The concentric force of the washer eliminates the chances of bending the fastener.
Extensive application and flexibility, minimizes stocks.
Dimension Table for Star washers
Internal Star Washer AS PER DIN DIN 6798 B
PART CODE
SIZE
INNER DIAMETER (d1)
OUTER DIAMETER (d2)
THICKNESS (s)
NO.OF TEETH
MIN
MAX
MIN
MAX
NOM
ISW02000
M 2
2.20
2.34
4.20
4.50
0.30
9.00
ISW02500
M 2.5
2.70
2.84
5.20
5.50
0.40
9.00
ISW03000
M 3
3.20
3.38
5.70
6.00
0.40
9.00
ISW03500
M 3.5
3.70
3.88
6.64
7.00
0.50
10.00
ISW04000
M 4
4.30
4.48
7.64
8.00
0.50
11.00
ISW05000
M 5
5.30
5.48
9.64
10.00
0.60
11.00
ISW06000
M 6
6.40
6.62
10.57
11.00
0.70
12.00
ISW08000
M 8
8.40
8.62
14.57
15.00
0.80
14.00
ISW10000
M 10
10.50
10.77
17.57
18.00
0.90
16.00
ISW12000
M 12
13.00
13.27
19.98
20.00
1.00
16.00
ISW14000
M 14
15.00
15.27
23.48
24.00
1.00
18.00
ISW16000
M 16
17.00
17.27
25.48
26.00
1.20
18.00
ISW18000
M 18
19.00
19.33
29.48
30.00
1.40
18.00
ISW20000
M 20
21.00
21.33
32.38
33.00
1.40
20.00
ISW22000
M 22
23.00
23.33
35.38
36.00
1.50
20.00
ISW24000
M 24
25.00
25.33
37.38
38.00
1.50
20.00
ISW26000
M 26
28.00
28.33
44.38
45.00
1.60
22.00
ISW30000
M 30
31.00
31.39
47.38
48.00
1.60
22.00
Request Quote