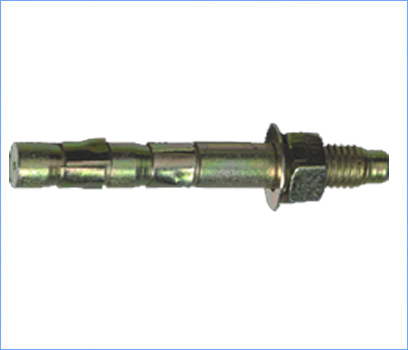 Introduction
Description
Double Ring through bolt for push-through and pre-positioned installation.
When the hexagon nut is tightened, the tapered bolt is pulled into the expansion clip and expands it against the hole wall.
Maximum recommended loads for Double Ring Through Bolt with large axial spacing and edge distance.
Anchor Size
Non-Cracked Concrete
Dia (8mm)
Dia (10mm)
Dia (12mm)
Dia (16mm)
Dia (20mm)
Recommended Loads nrec [kn]
Tensile
4.2
5.8
10.2
17.9
24.0
Shear
5.2
7.6
10.6
25.0
39.1
Installation
Drill hole to the length of fasteners minus the thickness of the nuts minus the thickness of the fixture.
Pump out the dust.
Place the fastners & then hammer it.
Tighten the nut which projects out & the clip inside expands and takes the firm grip on the concrete.
The double clips gives double Gripping.
Usage
Wood constructions
Machines
Gates
Staircases
Facades.
Window elements
Rail Tracks.
Ladders
Steel construction
Consoles
Railings
Cable trays
Request Quote